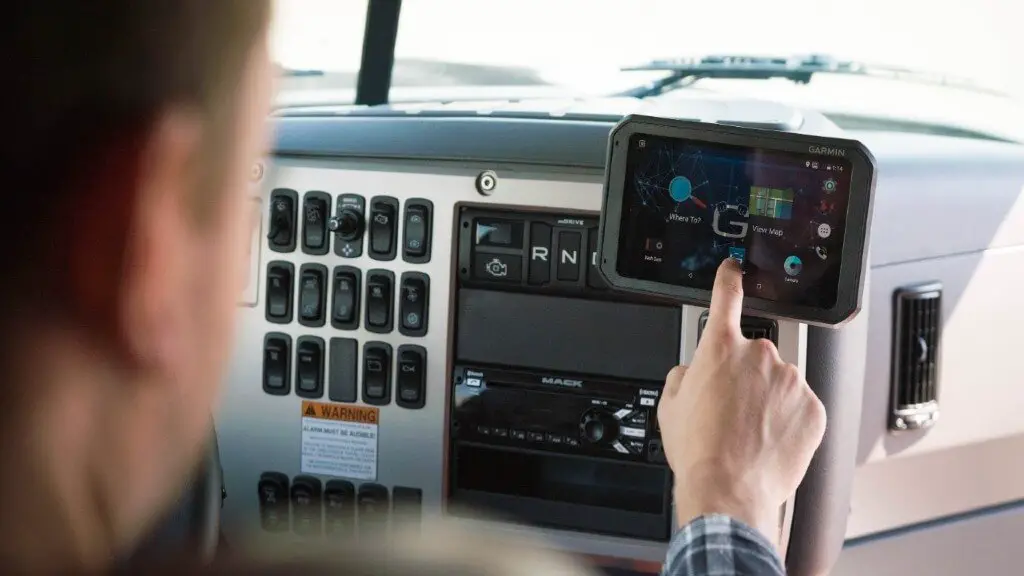 Garmin ELD meets the FMCSA regulations, so you will not have violation issues. You get simple functions, affordable prices, and excellent communication. You don't have to pay extra for any feature as it has one cost. Garmin ELD review will help you buy the right solution for your fleet.
The manager can monitor the activities of the drivers and the fleet owner can monitor his assets. Similarly, drivers get a simple logging system. Forget paper logs as everything goes on automatically. 
Besides, drivers can also edit their status when necessary. The device uses the best driver record audit software.
According to Garmin ELD reviews, the following benefits attract people towards it:
The ELD follows the compliance laws, hence the drivers will be safe on the road. The HOS reports are perfect.

You can just buy the device and start using it without any other help. So, consider it an independent device.

Owners of semi-trucks love to have it due to the diagnostic ports it supports.

The device and the app automatically save the entire data that you can access through your phone.

The drivers can see and change the duty status from their tabs or smartphones.

Due to a zero subscription fee, you will feel free.

It is a compact device and easy to use for drivers, managers, and fleet owners.
Key Specifications
Manufacturer
Garmin
Features

FMCSA
GPS tracking
HOS
Engine hours
RPM

Display Device

Type: BYOD (Bring Your Own Device)
OS: Android and iOS

Transmits
Bluetooth and USB
Pricing

Upfront: $250
Zero monthly cost
Let's look at more features
Well Compliant
You will not have to worry about using the wrong device, because Garmin ELD is subject to proper testing, so you will receive data in accordance with federal laws. With this, you always get reliable results. You will not have to face HOS or FMCSA violations.
back to menu ↑
Keeps You Safe
With timely alerts, the drivers and vehicles would remain safe. The roadside inspection will also prevent you from any upcoming issue. Besides, the mangers will know where their drivers are going.
back to menu ↑
Reliable Tracking
You will get excellent monitoring results and both managers and fleet owners get full satisfaction. In the event of an accident, the administration will immediately get to the location of its driver. 
You can approach the driver and send him help in case of trouble. Similarly, it is easy for managers to monitor driving behaviors.
The managers can warn drivers about misbehavior and this can lead to better performance. Employees will become more productive and the fleet revenue will increase.
back to menu ↑
Accurate and Accessible E-Logs
Garmin e-log reviews prove that the device makes its data easy to access. The drivers find it easy to make the inputs. The first part of the device is to collect the desired data. 
The other part is that the data needs to be accessible and the Garmin ELD offers both features. It works with cloud computing, which allows faster access from anywhere.
There is no need to examine the paper documents while driving as the device provides an on-road investigation. Due to the excellent driver record audit software, the fleet will run smoothly.
back to menu ↑
Reliable Reports
Whether you want to see the HOS or need GPS history, you will get accurate data. The users have to keep the app updated so they get everything perfect. It also provides engine hours and RPM, speed of vehicles, VIN, and distance reports.
back to menu ↑
Better Management
It is very difficult to manually record every part of the fleet. Garmin e-log compliant ELD appears with all its features. You can keep track of a stupid backend behavior. Automatic notifications make the entire process easier for managers and owners.
The notification lights will alert you about a damaged vehicle so you can repair it quickly and the business will not be affected. Besides, the device enables drivers to communicate with the head office seamlessly. 
If the office does not receive alerts in a timely manner, drivers also have an option to send alerts to the maintenance department.
back to menu ↑
Effective Software
Garmin for truckers review shows that it brings the simplest app. The hardware and the app work together to give us accurate data. You can download the app from the Google play store and the app is free. The drivers can easily understand the app functions with a little use.
back to menu ↑
Best Garmin Truck GPS
Fleet managers' main concern is the GPS so they can track their drivers at every second. If you need the breadcrumb GPS reports, Garmin will not disappoint you. You will always see positive Garmin trucker GPS reviews if you explore it online.
back to menu ↑
High-Level Support System
Drivers will also receive a local support during an accident. The company promises immediate response from its customer service staff. Even the fleet owners can get quick fixes if something happens to the device or its software. If the ELD website provides a ticket to the user, you can track it from anywhere.
back to menu ↑
Product Price
There are no tricky costs as you have to pay for once. There is no subscription cost so forget any monthly payments. Just pay $250 and get the ELD. Due to a one-time cost, the Garmin ELD is ideal for independent and small fleets.
PROS:
Onetime cost

Easy to install

Free from signing a contract

Zero monthly cost

Independent device

Simple functions
CONS:
A few issues with reports

Lacks third-party

Lacks advanced features
back to menu ↑
How to install Garmin ELD correctly?
back to menu ↑
FAQs
Is Garmin ELD according to the required mandate?
Yes, it is a Garmin elog compliant ELD, hence you will not have any issues of the law violation.
Is it easy to install?
You need to have 6 and 9-pin diagnostic port, and simply plug the device into the port, and download the app to start using it.
How accurate is Garmin logbook?
According to reviews, the logbook is perfect and beats other ELDs in terms of accuracy. The drivers get the reports on their smartphones via Bluetooth. The managers also get all reports on their systems.
back to menu ↑
Conclusions
The above Garmin ELD review reveals that one should buy this solution. You can maintain hard data to increase your company's productivity. From drivers to managers and fleet owners, everyone can benefit from this ELD. 
Garmin ELD has a simple Plug and Play installation that reduces any other cost. Besides, you have to pay once to have this ELD solution.
Whether you have a small fleet or a large one, this device is equally good. The device helps organize huge data in a little time. The alerts can help prevent an accident, saving drivers, and fleet assets.