People are now aware of electronic logging devices, including Qualcomm ELD. The device provides the best solution not only for trucks and cars but also for delivery vans. What an easy way to get the HOS record that was not possible a few years back.
Likewise, the RODS was not possible before an electronic login. The drivers and fleet companies can save so much time by using a fast solution. Not all devices comply with HOS rules, but Qualcomm omnitracs provides this feature.
What Is Omnitracs?
People often ask questions like what is Omnitracs. It is a company that provides telematics solutions to different vehicles. Be it a small car or a large truck or bus, omnitracs software helps all with a simple interface. You can customize the software as per your needs. Create a dashboard according to your business requirements. Different industries can take benefit from it.
Key Specifications
 
Manufacturer
Qualcomm
Features

FMCSA
HOS
Messaging
Customer support
GPS
Engine monitor
DVIR

Display Device

Type: BYOD (Bring Your Own Device)
OS: Android

Transmits
Email/web service
Pricing

Upfront: $600
Monthly: $55
3 Years: $2580
How Many Solutions You Need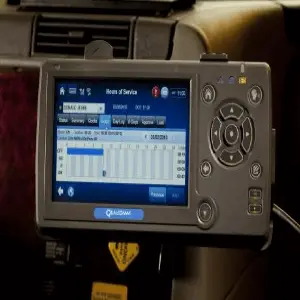 You may come across fleet managers under so much frustration. Like, they have to face issues of HOS compliance, high fuel cost, poor navigation, and wrong login, and many others. With Qualcomm elog, the drivers can have a timely login and can prevent the service hours' violation.
This ELD has three types of solutions including MCP 50,110, and 200. The prices vary and the Qualcomm mcp200 price is costly than others due to more features. It depends on your fleet so choose an ELD plan accordingly.
Fuel Cost Management
As a fleet owner, you cannot find the exact fuel consumption of each vehicle. This is why the solution became as ELD. Now, the managers can see driver status, like if he is sleeping or working.  This kind of tracking keeps drivers alert and they don't violate the laws. The drivers can't take your vehicle anywhere for personal use. A constant check on your driver will save the extra fuel costs.
Easy Regulations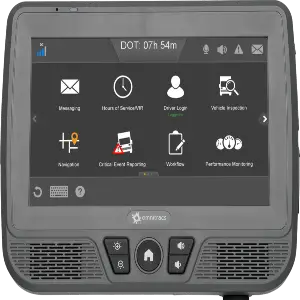 Often the drivers have to deal with strict ELD compliance rules. The Qualcomm Omnitracs does not only fulfills the electronic log mandate, but it also fulfills the IFTA requirements.
Increased Revenue
The fleet companies found that they can save money through an ELD device in many ways. Like, the fast reports save drivers' time. Navigation also saves time and the driver time per day has 15 minutes increase.
Moreover, tracking reduces the maintenance charges because you already know the issue ad can remove the fault before a vehicle gets fully damaged. All these kinds of savings increase company revenue. The drivers can also serve more customers in a little time.
back to menu ↑
What Benefits Do You Get From Qualcomm Omnitracs ELD?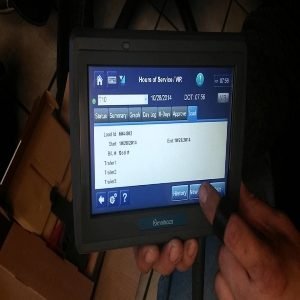 Every ELD device should have the right specifications to meet drivers', managers', and compliance needs. Qualcomm Omnitracs ELD is complete in terms of specification. Let's see what it gives us:
It is compatible with the truck engine and tracks every movement.

The

Qualcomm log book

helps drivers set their duty status. Like, on and off- duty or on-duty but not driving. The device records the truck movement automatically.

It brings standard data that is easy to transfer to the law regulation departments, like traffic police, etc. The drivers can use a USB or Bluetooth or web service for file transfer.

The duty status appears in the form of graphics.
Trusted Device
You can trust this device because it fulfills several laws. From HOS to DVIR, all are under control.
More Productivity
The device ensures a safe journey. When your driver is safe, your business will grow and the drivers would also become more productive. It also tracks assets all the time, hence they remain safe. The fleet company reputation remains at the top, if everything is under surveillance.
The Industries It Serves
Qualcomm omnitracs provides ELD solutions to different industries, such as service and dedicated fleets, truckload companies, private fleet companies, parcel and delivery fleets, and LTL carriers.
How to Use Qualcomm Elogs
The user guide will help you find how to use Qualcomm elogs. You have to install the ELD and then connect it to your smart device with a Bluetooth. The driver can set the dashboard as he requires. The managers can also get custom settings and can control everything from their devices.
Qualcomm Trucking Cost
The cost of the hardware is affordable. However, it depends on what device you choose. Some devices suit small fleets and some are good for large fleets. There is a subscription fee on a monthly basis.
Generally, the ELD Company has around $700 upfront cost. If you are looking for Qualcomm mcp50 for sale, you can explore it online.
PROS:
Reliable ELD

DVIR and FMCSA compliant

Easy installation

More productivity

Good customer support
back to menu ↑
FAQs
Is Qualcomm just an ELD?
Qualcomm is not only an electronic login device, but it acts like an onboard computer. It allows you to communicate through messages. The drivers can exchange messages with mangers or other drivers. It also provides GPS.
How much MCP 50 Costs?
Generally, it costs around $600 that is affordable to most customers.
Is there a camera In Omnitracs?
The MCP 200 has a camera that can record the roadside videos automatically. The camera also detects the time and location and saves the entire data. The speed of the truck also gets into the video.
Is Qualcomm omnitracs difficult to understand?
You can easily understand its operation through a user manual. The installation is also very easy. Anyone can operate the software from his or her smartphone or tablet.
back to menu ↑
Conclusion
In general, Qualcomm ELD is an excellent device that has helped several drivers and back-office staff. The device satisfies all essential laws, including HOS, FMCSA, and DVIR. The drivers find it easy to log. The dashboard settings are customizable.
The device helps in tracking vehicles through GPS and also tracks fuel consumption. The cost of the hardware depends on the ELD model and size. It is ideal for different fleet industries.