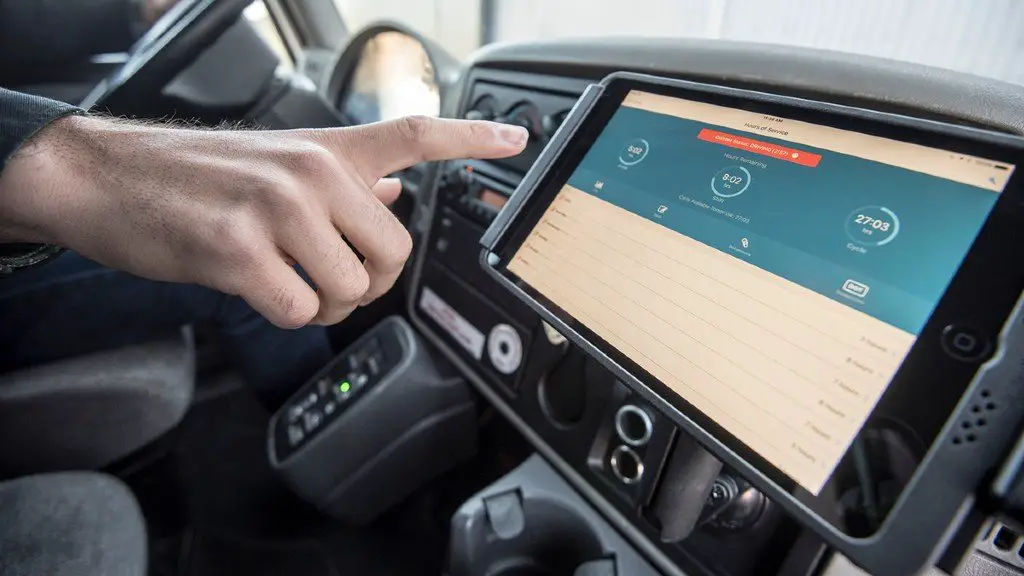 Like a regular electronic logging device, Samsara ELD review has the basic functions. But, as it is new to the industry, so it includes better and innovative functions. A high-tech device can't survive without cloud storage and this is what you get in Samsara.
The benefit of Samsara ELD review is that you will understand its features before using it. The system is easy to adapt and the FMCSA compliance makes it even more attractive. Large fleets of trucks and buses should have it to make fleet management an easier task.
Key Specifications
Manufacturer
Samsara
Features

FMCSA
GPS
Reefer monitoring
IFTA
Wi-Fi hotspot

Display Device

Type: BYOD (Bring Your Own Device)
OS: Android and iOS

Transmits
Email / Web Service
Pricing

$ 33 monthly
$ 99 upfront
$ 1287 for 3 years
What is Samsara?
Samsara is a 5-year old company that makes innovative logging solutions. Among so many old names in the industry, Samsara has got popular due to its innovative features. After going through ELD features and Samsara reviews, you would not ignore it. A fleet of around 10,000 vehicles can have it.
Features
User-friendly e-log

Compact and innovative design

Cloud-based

Wi-Fi enabled

GPS and routing

FMCSA compliant 

Reefer monitoring

Document sharing
Which Industries Can Have Samsara 
Transportation 

Logistics

Food production

Construction
back to menu ↑
Compliant with FMCSA
The Federal Motor Carrier Safety Administration approved Samsara logging device and issued a certificate. This compliance makes it a safe unit. But, compared to other ELDs, Samsara offers compliance at low rates.
back to menu ↑
Fleet Management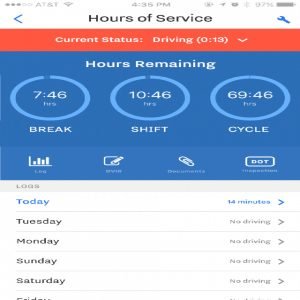 There is a long list of Samsara fleet management reviews which are mostly pleasant. If we see a transport company with thousands of vehicles, we wonder how fleet owners manage it. But, when we look at Samsara e-log system, we find that anyone can handle a large fleet with this device.
The managers can locate drivers through GPS. They also know if the drivers are on duty or not as they can access status reports through cloud data. Managers can also check unnecessary usage of fuel, and all these things are possible through Samsara.
back to menu ↑
Perfect Routing and Dispatch
Dispatch is a complex task to handle in a fleet, but Samsara will help you in this regard. Live tracking is also available. If your internet runs smoothly, you will not have any issue in tracking driver routes.
back to menu ↑
Built-in Wi-Fi
In most ELDs, you have to buy your own Internet connection to operate logging features and to use the GPS. But, Samsara offers Wi-Fi hotspots with 500 Mb monthly, for one vehicle.
This feature allows drivers to use essential apps and they can also share videos and reports. The drivers can send emails to the back-office or to road inspectors. They can also download the CRM app to become more productive. However, according to some Samsara ELD reviews, certain issues happen with the internet connection.
back to menu ↑
Benefits of Dash Cam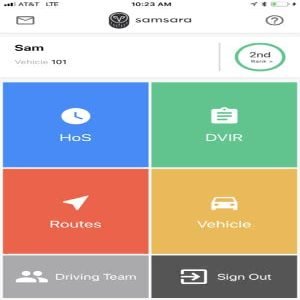 If you want to have artificial intelligence with your ELD device, there is no other place than Samara. You will have it through a dash cam that is a part of the hardware. The cam has two faces that capture the front and rear incidents. The video automatically goes to cloud storage and is available to the fleet staff.
No one can bully in the presence of a cam and you know who is guilty in case of an accident. The fleet leadership can also find driving behaviors and can correct a driver if he is careless in any respect.
back to menu ↑
High-Quality GPS Sensors 
If you are using ELD by Samsara, you will see how effective GPS is. The user will get real-time tracking of different routes. The managers would also know fuel consumption that helps them reduce the overhead costs.  
An aerial view of the vehicle is the innovation that you get with Samsara GPS. According to Samsara GPS reviews, people have improved the productivity of their fleets.
back to menu ↑
Perfect Document Making and Sharing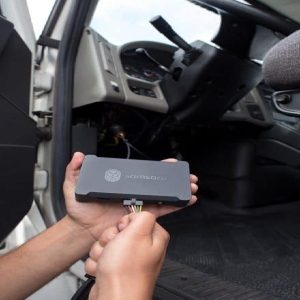 The drivers find no difficulty in making different logging reports. Besides, they can share files via email or can take snapshots to share on Whatapp through their Smart phones. Be it receipts or bills of landing, they are accessible to the management and State officers.
back to menu ↑
Cost-Effective Monitoring
The company offers reefer monitoring in the form of duel reefer control. It involves instant alerts, and the wireless sensors help in carrying fleet operations. The users also get temperature data and when it deviates you will get the alert. These monitoring sensors prevent the loads from damage due to a high temperature. Besides, there will be no more rejected deliveries.
back to menu ↑
Samsara Pricing
Generally, people find Samsara cost-effective as the total cost is quite affordable. However, it has a $99 upfront cost, and the monthly cost is $33. Samsara pricing involves an affordable three-year plan that is adaptable to several companies.
PROS:
Easy plug and play installation

Compact design

Customer support via phone

Real-time tracking
CONS:
A tablet may have issues with the app

Data connection issues
back to menu ↑
FAQs
How effective is vehicle Samsara ELD monitoring?
It comes up with reefer monitoring having advanced features, like temperature alerts. It helps to prevent delivery rejection.
Is Samsara GPS expensive?
No, it is an economical solution, besides it also offers an aerial view of the vehicles. The company offers in-cab Wi-Fi that makes GPS and data sharing affordable.
Can Samsara capture road incidents?
Yes, it has a two-way dash cam to make accident videos and record them. Drivers can share these reports with fleet management.
back to menu ↑
Conclusion
Samsara ELD is a combination of a refine hardware and app. Unlike the ordinary logging device, Samsara ELD has built-in Wi-Fi, allowing enough space for data storage. The users can enjoy the high-end GPS tracking with routing and aerial views.
Though it has an upfront cost, the device becomes economical if you buy a three year's plan. Moreover, the monitoring features prevent several damages to the vehicle reducing the fleet costs. FMCSA compliance is also perfect, so it is a good device.